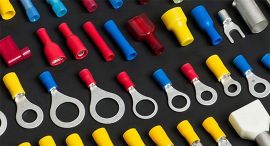 1. What does the color of the cable lug indicate?
The colors of the different cable shoes (insulated) indicate for which wire diameter it is intended. The following color schemes apply:
| | | |
| --- | --- | --- |
| Color | mm2 | AWG |
| White | 0,3-0,8 mm2 | 18-22 AWG |
| Red | 0,5-1,5 mm2 | 22-16 AWG |
| Blue | 1,5-2,5 mm2 | 16-14 AWG |
| Yellow | 4.0-6.0 mm2 | 12-10 AWG |


2. What is the maximum current?
The amperage can also be derived from the color. The following maximum currents apply:
Color

Max. amperage

Red

0-16A

Blue

17-25A

Yellow

26-40A


3. What is easy-entry?
Our cable slugs are equipped with easy entry. Easy entry means that you can easily insert your wire into the cable lug and provides good guidance from wire to cable lug. This prevents the copper wires from deforming.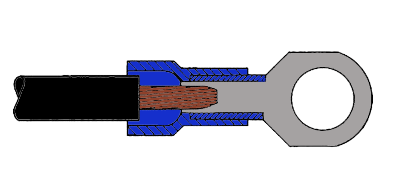 Image illustrating easy entry


4. How do I strip the cable in the correct way and the correct length for my cable lug?
Using wire strippers, you can carefully remove the insulation from the stress-free wires. This way you avoid cut or kinked wires. In addition, you can see in the image below what the correct length of the stripped piece should be.

View our various wire strippers here.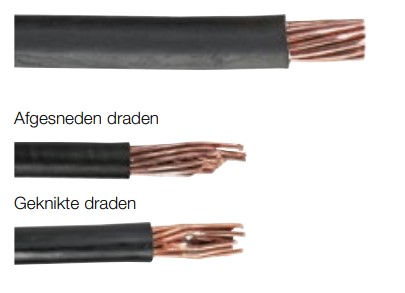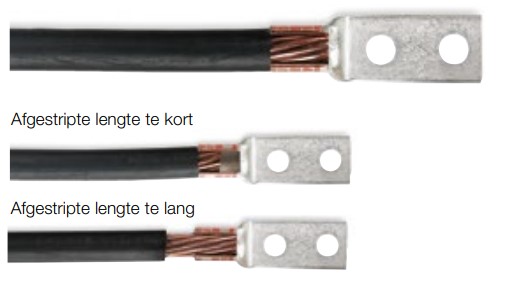 1. Rightly stripped wire, cut and kinked wires
2. Wire on the correct length, too short and too long

5. How do I install a cable lug correctly?
After the cable has been stripped and placed in the cable shoe, it must be crimped. You need a good crimping tool to mount cable lugs correctly. There are various crimping tools available for the different cable shoes. For example, there are pliers for non-insulated cable lugs, insulated cable lug, pliers that can do both and even pliers with replaceable jaws!

View the various crimping tools.
Curious about our full range of cable lugs? Click here.