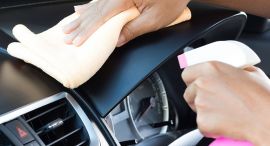 Besides that a clean interior looks neat, it is also fresh and hygienic to clean your interior in time. That is why we have 5 tips for you to make your interior spick and span!

Tip 1: Clean the car dashboard and center console
A lot of dust is collected on the dashboard and the center console, which makes the interior look dirty and used quickly. Fortunately, a good clean can easily remedy this. There are countless special products available. Take this Holts dashboard cleaner for example. This makes your dashboard shine and smell like new again!

Tip 2: Clean the car windows
Car windows are often only properly cleaned on the outside, while the inside is almost as important. The windshield, in particular, can reduce visibility and especially lead to dangerous situations when the sun is shining, for example. To clean your car windows properly, use a special window cleaner. Spray it on the windows and then rub it dry with a soft cloth to prevent scratches.

Tip 3: Clean the cover
Soft interior upholstery always has a hard time, it does not matter whether the upholstery of your car is made of leather or fabric. It is true that the cleaning of fabric inner lining is different from that of leather. Here too, special cleaning products are available for both types of upholstery, so for leather and for fabric. Leather always needs more nutrition and protection. However, they have the same goal: removing stains and deodorizing the material.

Tip 4: Clean the car mats
The floor mats have a hard time every week. Beat the mats well and vacuum them out with a vacuum cleaner to keep them clean and in good condition. In addition, rubber car mats are also a good option, they are waterproof, easy to clean and they do not slip. Wash these mats with a high pressure sprayer for an optimal clean result.

Tip 5: Use refreshers
When you spend a lot of time in the car, smells automatically collect in the car. By thoroughly cleaning the car with the help of the previous tips, you can already eliminate a large part of these odors. In addition, you can use different types of refreshers to provide your car with a nice scent.